Madden 22: The best guide to theme team for Baltimore Ravens
Madden 22
Date: Oct/15/21 14:58:16
Views: 731
From Madden 22 to the present, Ultimate Team has become an official battlefield for players. With so many player card choices, it may be overwhelming for players. Especially new players who want to build the best-themed team lineup but don't know how to choose and judge. Faced with this situation, players wasted time and MUT Coins but did not get the most desired theme team. In this post, we will share how to build a Baltimore ravens theme team.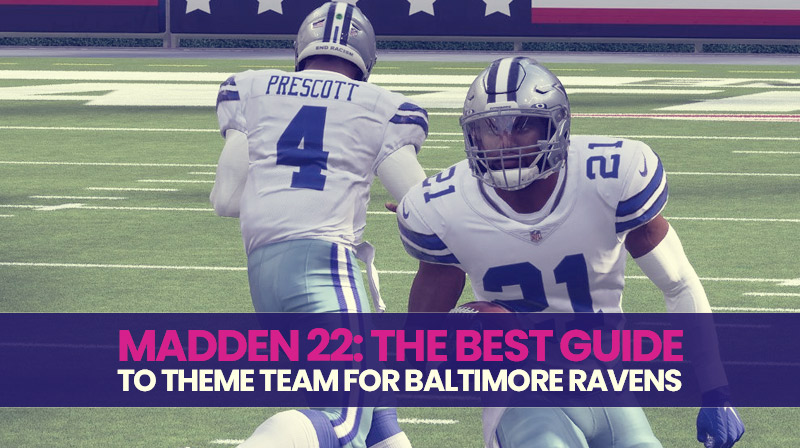 Madden 22: Baltimore Ravens Theme Team
It takes a lot of work to build a great Madden 22 Ultimate theme team. However, for fans of a particular group, the effort is worth it.
For Ravens fans, we have prepared a unique guide for you to add the best Ravens players to your MUT 22 list. These players will not only satisfy your desire to see the players you like, but they will also provide you with the best chance of winning. Remember that the cards are constantly updated, but the cards we will mention here are a great foundation to help you get started.
Madden 22: Best Raven MUT 22 Card
We all know that the Baltimore Ravens have Lamar Jackson, one of the best quarterbacks in the league. However, in addition to Jackson, more players need to be added.
Keep this in mind, we have the best offensive and defensive players, and you will want to add to your MUT 22 themed team.
Defense: Marcus Peters, Haloti Ngata, Ed Reid
Are you ready to start the Baltimore Ravens defense in MUT 22? We have already provided you with protection.
Each of these players will affect all three levels of defense. With an OVR of 92, CB Marcus Peters is one of the best cornerbacks in the entire MUT 22 database.
Pairing 92 OVR CB Marcus Peters with 90 OVR SS Ed Reed and 90 OVR DT Haloti Ngata will give your defense the best chance to fill up the running and protect the second level.
LTD Marcus Peters (Marcus Peters) will cover any person you let him oppose and can switch to person-to-person coverage at a critical juncture. The Legends Ed Reed also provides you with excellent area coverage and acceleration.
Diamond Team: Haloti Ngata
Of course, his OVR is 90, but Team Diamond DT Haloti Ngata is the perfect complement to your Madden Ultimate Team and can become a base runner. He is also the only Diamond team on the Ravens so far.
In addition to being an incredible runner, Team Diamonds also provides team chemistry boosts, which you need to have a successful MUT 22 theme team.
Offense: Sammy Watkins, Lamar Jackson, Kevin Zetler
Unfortunately, the Ravens have not yet entered the MUT 22 database with an offensive player card with an OVR score of over 90. This may be because they are waiting to discard more cards in the future, or they didn't think of a player worth having.
Nevertheless, the Vets 88 OVR Sammy Watkins card will provide you with a powerful wide receiver for TOTW 2 87 OVR Lamar Jackson to throw. In the end, you will want an RG scrambling to protect Jackson.
This is where Kevin Zeitler comes in handy. The MUT 22 Ultimate Kickoff Hero will provide you with the protection you need to focus on the low field.
Honorable mention: K Justin Tucker
If you can, you should find 92 OVR TOTW 3 Kicker Justin Tucker at the auction house. He may spend a penny, but it is worth it in a close match.
He leads all the Ravens on this list in terms of overall ratings and is the highest-rated Baltimore Ravens player to date. He is a supplement that your MUT 22 theme team should have.
Related: Madden 22: The complete guide to Tampa Bay Buccaneers Theme Team.
Madden 22, Madden 22 Theme Team, Madden 22 Baltimore Ravens Theme Team, Related News And Guides